Definition
Trapped key interlocking has been keeping people safe from hazardous environments for over 100 years. It ensures that a pre-determined process is followed and cannot be circumvented or short cut. The transfer of uniquely coded keys ensures that personnel remain safe regardless of where they are operating on the site. 
An isolation key is used to control the process and remains trapped in the isolator/key switch whilst the machine is running. The removal of the isolation key isolates the power source. When the key is removed, the power is off. This (isolation) key is then trapped in either a key exchange box for release of multiple keys or directly in an access lock which retains the key and allows safe access to the dangerous area. This key remains trapped in position while the gate or door is opened and can only be removed when the gate or door has been closed and the lock engaged. In this way the key is either trapped when the machine is running and access cannot be gained, or the key is trapped while access is gained, and the machine cannot be started. 
History
The concept of trapped key interlocking (TKI) dates back to 1893 when French inventor Paul Bouré created engagement locking devices to ensure safe track switching operations. Two years later, Trayvou manufactured interlocking devices for the manufacturing and the railway industry. In 1922, the Englishman James Harry Castell designed the first interlocking system to protect the people and assets during the electrification of London, while R.L. Kirk is the first to pioneer the use of key interlocking on circuit breakers and switches in early 1930's.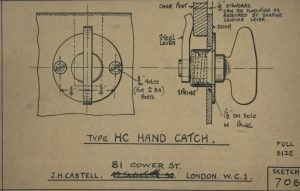 Where it wins
Despite originally being used predominantly in the rail sector, trapped key interlocking has since developed and is now utilised in many different and diverse situations across all sectors. From machine guarding in industrial applications to the safe operation of switchgear, both HV and MV/LV, and even in logistics and warehousing to prevent accidents when loading operations are taking place. It is, however, in harsh environments and heavy applications where trapped key interlocking stands out and often out–performs many of the alternative solutions such as safety switches and sensing technology. 
To begin with, trapped key interlocking can be mounted easily around the hazardous area and does not require field wiring nor cabling around machinery, assets or equipment. In many cases, a machine will be isolated via a key switch mounted on a control panel or isolation unit, keeping all the electrical wiring well away from the hazardous areas. Castell's trapped key interlocking products are built and tested to the highest quality, and are extremely robust, being able to withstand harsh conditions such as high temperatures, adverse weather, dirty, and even wash down areas. They require little maintenance and are proven to work in challenging environments.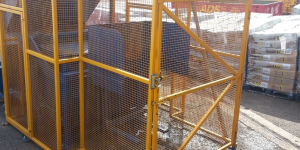 Conclusion
Trapped key interlocking systems have been extensively used in different industries and applications for more than 100 years protecting assets, machinery and personnel. Despite the advancements and rising of new technologies, trapped key is still relevant and often remains the best safety solution especially when it comes to harsh environments and heavy applications where the need to withstand adverse conditions is required.