sentric safety group's talents
Meet Salimata, Export Assistant, EMEA
Salimata joined STI in 2019 to grow her international experience. She is passionate about building relationships with customers and making sure they have the best service possible.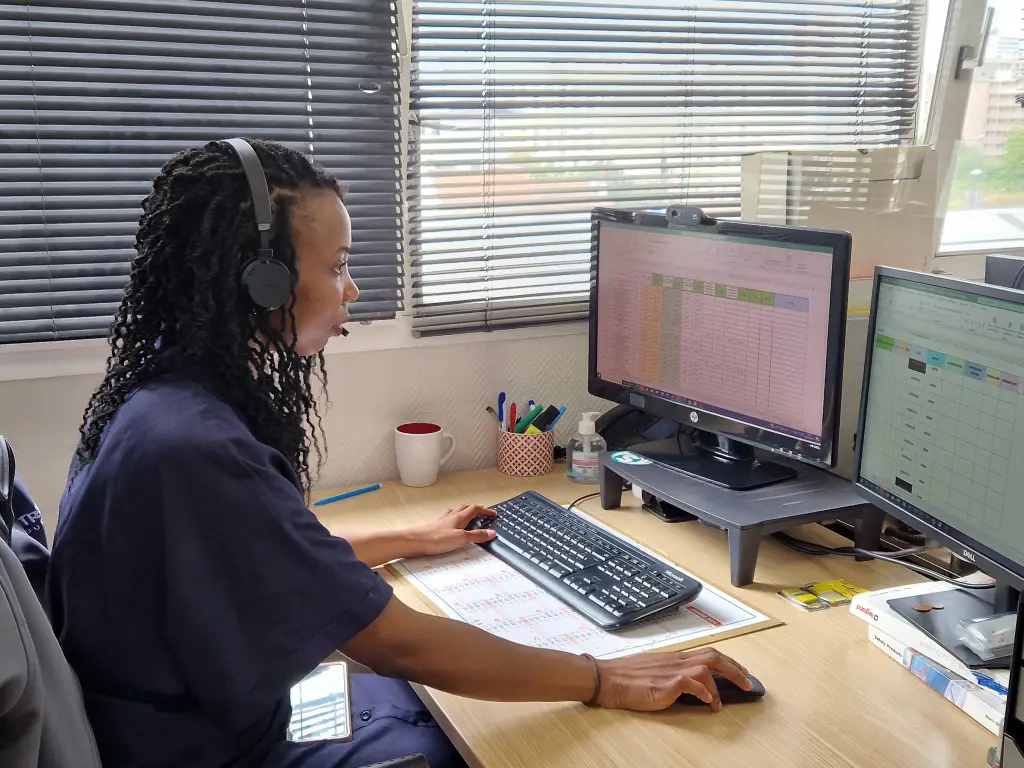 Can you tell us about your personal background?
I actually grew up around the corner in Montreuil. My passion for languages from an early age led me to study English, Spanish, and Italian. I then graduated in Business and Languages from the University of Paris XII.
I wanted to keep speaking different languages daily and decided to work as a Commercial Assistant for several companies covering France and the French Antilles.
In 2019, after different life events and the birth of my son, I really wanted to find a fulfilling role where I could use all my skills and languages. This is why I applied to STI.
What motivates you?
In and outside of work, I like to help people. Whether it is spending time with my family or volunteering for a charity that helps foreign students, I like to help.
For me, the most important thing is customer satisfaction. I love to assist them and find solutions. It is impossible not to have any problems. As much as possible I try to solve them before they happen and if it is not possible, find the best solution for them.
The human side of my role is something I am passionate about. I have developed close relationships with some clients. For example, there is in Australia that I am still managing even if she is not in my sector anymore.
What is your history at Sentric?
Already in the interview process, I had a good feeling with the team and welcomed the opportunity to progress internationally.
I joined in the middle of summer, the busiest time of the year for our team. At first, I was a bit anxious about the technical complexity of the products and the wide range to manage. Everyone was very supportive, especially my colleague Ana, who took me under her wing. She really spent time with me to explain our solutions and support me.
Managing work and childcare during COVID-19 was a bit challenging. I decided to continue going to the office and organised my work schedule around my son's nursery. It was a bit weird being alone in the open space though.
What does a typical day look like to you?
I usually arrive around 8h30 after dropping my son off at school. The first thing I do is get a coffee to get me started and then check my emails to see if there are any client emergencies that need my immediate attention. One of my biggest challenges is making sure we keep our strict deadline.
My morning is usually dedicated to checking the orders that have come through from my clients and managing them. It means analysing the client's requirements and liaising with the production team to organise its manufacturing. If it is an existing client, I also manage the pro-format invoicing.
Working internationally means that I also manage 'Certificates of Origin' for some clients and sometimes complex transport solutions.
The afternoon is usually focused on managing clients' requests and dealing with emails.
There are always new things to learn from customers.

Salimata, Export Assistant, EMEA
What values do you appreciate most among your colleagues?
We are a global group with a human size. We all know each other and we do not feel the hierarchical relationship. There is an amazing team spirit and cultural melting pot between us.
I really value the caring atmosphere. Everybody is very professional and gets on with their work while at the same time being happy to help or explain something if needed. As a single mother, I feel supported. We are all flexible and understand that we have a life outside of work.
What's the most rewarding project you've worked on?
It would have to be taking over the account management of one of our major energy clients. It was a difficult one with loads of issues/ No one wanted it!
The products had a lot of very specific requirements and there were no processes. When I took over, I used the experience I gained with another product line and transferred the knowledge to their line of products.
The client was so happy that they thanked me publicly to our management team and we got contracts for them in other countries as well.
Related People News
Related People News