sentric safety group's talents
Meet Yannick, Facility Manager, France
Yannick joined our STI business in early 2023. He is passionate about spending time with his loved ones. Jack of all trades, he tells us why he also enjoys taking care of the Sentric team in France.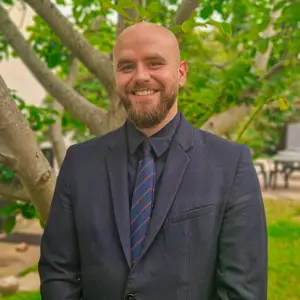 Can you tell us about your personal background?
Hello, my name is Yannis Chandler and I'm Facility Manager at Sentric.
I was born in England and came to France at the age of 5. I studied for a BTS in Marketing in the Paris region.
Before coming to Sentric, I worked as a general services manager for several multinational luxury brands and pharmaceutical groups.
What do you like in your job?
What I like about my job is that it's a Swiss Army knife job.
I don't have a typical day. I am dealing with a large number of different topics. What I also like about Sentric Group is the fact that there's so much mutual support and solidarity.
Can you tell us a bit more about your role?
My role is to ensure the comfort, well-being and safety of our employees.
What motivates you?
What motivates me? I would say, it is the satisfaction of my colleagues, making sure that they have a smile on their faces and that everything goes well for them.
To conclude on a fun note, what people would not guess about you ?
It may not seem obvious at first, but I'm passionate about martial arts. I've been doing Brazilian Jiu-Jitsu for a few years now and, unfortunately, I often arrive at the office with bruises or bandages.